Thanks to Nonprofits Children Can Get Much-Needed Free or Reduced Cost Dental Care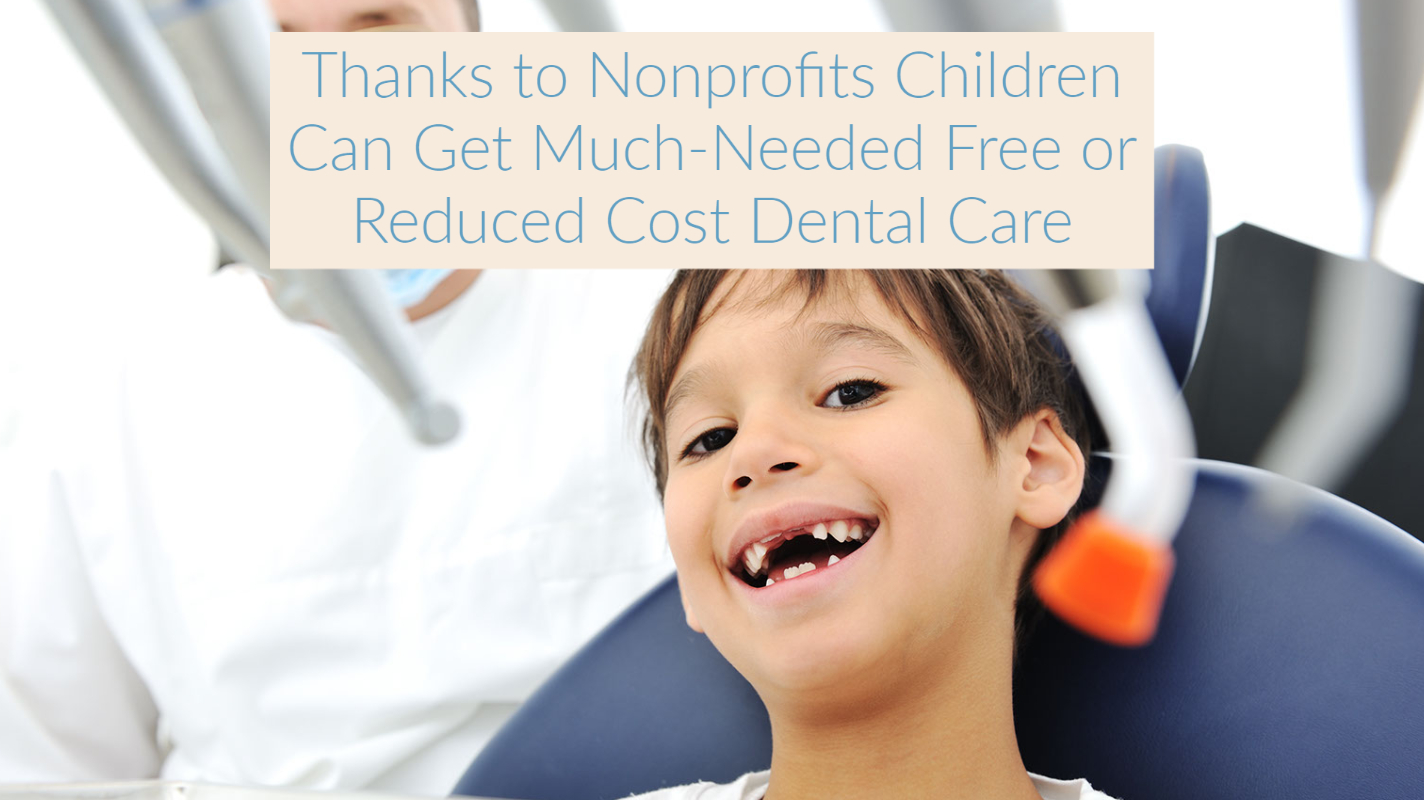 Millions of kids are currently going without any access to dental services. You may think, well they're kids and they're going to lose baby teeth anyway. Doesn't dental care really start after baby teeth are gone? That's not true. In fact, children will face ongoing health consequences if they don't receive dental care at a young age.
Health and dental care for kids is vital to growing children. Otherwise, tooth decay that goes untreated can lead to intensive dental needs. The more severe tooth decay becomes in children, the more prevalent chronic dental disease will affect kids in America.
Children's Teeth Require Special Care
From infancy well into childhood, a child's teeth require oral healthcare. It should start with the very first protruding tooth in a baby's mouth. Yes, those first teeth will fall out eventually, but baby teeth play an important role of holding space for a child's permanent teeth. Children need a healthy mouth from infancy that allows permanent teeth to grow in as they should. It is important to keep in mind that a baby can also suffer from decay as well as other problems that include:
Painful Gums and Teeth
Gum Disease and Inflammation
Difficulty Sleeping, Chewing, and Eating
Difficulty with Early Speech
Good Oral Health Habits Should Be Developed as Soon as Possible
Health and dental care for kids cannot be started soon enough. When it comes to infants, you can take care of their oral health until they are old enough to learn basic dental care for themselves. Teaching a child how to care for their teeth early ensures that they set good habits for a lifetime.
How Can You Help Your Child Maintain a Healthy Mouth?
There are actually many things that can be done to help children maintain oral health, starting with babies. You can start by wiping their gums with a clean, soft cloth directly after a first feeding. Before you put them to bed for the night, wipe their gums again to remove any bacteria or sugars that cause cavities.
Once baby teeth start coming in, brush them twice a day with a small, soft-bristled toothbrush using plain water. Visit with a dentist for kids by the time your baby turns one to spot any signs of dental problems early. Ask about having a fluoride varnish applied to their teeth the moment the first tooth comes in. Children younger than two years of age may be able to use fluoride toothpaste to help fight against cavities, as well. Discuss all of this and more with their dentist.
Keep an Eye on Your Child's Dental Health
Older children need to develop good habits when it comes to their dental health. Toddlers should already be brushing their teeth two times a day with fluoride toothpaste. The water they drink should also contain fluoride. In some cases, your child may require teeth cleaning or dental sealants may need to be applied to keep their teeth cavity-free. Health and dental care for kids changes with every stage of growth.
Children younger than six years of age should be supervised while they brush their teeth. It only takes a pea-sized dollop of toothpaste that should be spit out after brushing. At this age, children need guidance when it comes to learning how to acquire excellent brushing skills.
One of the best ways to focus on health and dental care for kids is via nutritional care. A plethora of dental problems such as tooth decay, cavities, and gum disease can be better controlled by following a healthy diet without excess sugar. This includes juices that can be loaded with enamel destroying acids and hidden sugars. Choosing healthy beverages and foods is beneficial and can help your child keep from suffering from early tooth decay.
When Should a Child See a Dentist?
Per the U.S. Department of Health and Human Services, nearly 50% of kids under 12 already have tooth decay. As a parent, you should make sure you are caring for your child's teeth by making an appointment with a dentist for children. Many dentists recommend checkups, cleanings, and general dentistry treatments for children of all ages.
What If You Can't Afford to Take Your Child to the Dentist?
Bad dental health is a problem for many families. Sometimes, treatment is just out of reach. Many children live in pain due to bad teeth and infected gums. It causes them to miss school. They are unable to rest, and eating has become painful. Sometimes, kids even lose teeth and succumb to dangerous infections that can cause death. What is a parent to do? Seek health and dental care for kids from a qualifying charitable organization.
How Has This Happened in the Wealthiest Country in the World?
Tooth decay is a contagious disease. Without basic oral healthcare products, it can get out of control fast. In some cases, it's an absence of Medicaid or parental neglect. Good oral habits aren't instilled and sometimes there is a belief that baby teeth do not matter. Homelessness and restricted access to dentists also prove to be insurmountable problems.
Dental Insurance Coverage Doesn't Always Help
Even families lucky enough to have dental insurance coverage may not have access to good dental care. How can this be possible? There are a few reasons including healthcare provider shortages in the area or no Medicaid providers. The same goes for families with limited transportation or those suffering from financial hardship. Perhaps there is a lack of dentists in the area that are qualified to treat children with special needs. However, there is help.
Different Types of Programs Provide Dental Care for Kids
Research has proven that early access to oral health care is vital in regards to the identification and prevention of oral diseases in children. There are programs available that meet the criteria that deliver comprehensive dental care. Those programs share streamlined collaborations between dental and medical providers all in regards to promoting excellent oral health practices. Those programs include:
Comprehensive Community Healthcare Facilities
University Dental and Dental Hygiene Programs
Hospital-Based Dental Clinics
Stand-Alone Dental Clinics
School-Based Dental Clinics
Mobile Dental Facilities and Portable Units
How can you find access to these types of programs? You need a tooth fairy. Luckily America has a tooth fairy, literally America's ToothFairy. They are a resource provider that helps families overcome obstacles for health and dental care for kids. Their mission is to provide increased access for dental care for children by supporting community partners and nonprofit clinics. The goal is to ensure every child can get dental care access as well as a complete oral health education.
America's ToothFairy Is Here to Help
America's ToothFairy is committed to aiding under-served teens and children by improving their dental health. With their assistance, kids can get the care needed to enjoy a healthy and pain-free smile. They are literally giving kids a lot to smile about.
Their efforts are dual-focused on prevention and education in regards to health and dental care for kids. The idea is to foster healthy dental habits using community education tools. Are you wondering how this organization facilitates health and dental care for kids?
America's ToothFairy gratefully uses donations from donors that offer products, funding, and equipment. It is through the generosity of donations and community partners that more than 8 million children have been able to get oral health care from clinics that rely on their support. As of 2014, over 2 million dental care products have been supplied to children in need. This is all thanks to volunteers and corporate partners that take part in their Smile Drive campaign.
True Prevention Begins with Education
True prevention when it comes to health and dental care for kids starts with education. America's ToothFairy offers free tooth decay prevention education resources. Engaging educational materials are available on their website for caregivers and children. Every effort is made to keep children interested in creating exceptional oral health habits with fun activity sheets.
Choose from a variety of educational handouts for parents and kids, as well as lessons and other resources that can be used for larger group instruction. Videos are also available for viewing. America's ToothFairy has the materials needed to make a big difference in your community at no cost. That's right, download their educational material for free and use their resources to improve the oral health of kids in your area and across the nation.
It Takes the Use of a Dental Resource Program Too
Getting the proper health and dental care for kids takes all kinds of resources. America's ToothFairy has set up a Dental Resource Program to support many nonprofit programs and dental clinics that want to help kids. Currently, their DRP supports programs and clinics that have been able to help over 500,000 children across the nation. Do you own or work for a dental clinic that would like to help? If not, you can still help clinics by funding grants, educational programs, and treatments for children.
Become an Oral Health Hero
Are you ready to become a hero? The best heroes want to protect smiles while preventing tooth decay. Their sole mission is to make sure that children are defended against dastardly tooth decay. Seriously, you can become a hero in regards to health and dental care for kids, no matter your age.
Elementary middle school, and high school students can all get involved. Perhaps you are a student group organizer or leader. College students, concerned adults, and parents are also welcome to step up and become a hero. There is no limit concerning who can become a dental hero for kids.
Learn How You Can Get Involved
Anyone can reach out to America's ToothFairy to become involved in providing health and dental care for kids. Contact them to launch a Smile Drive which provides toothbrushes as well as other oral hygiene products for children in your community. This is great for younger kids that want to win great prizes too!
Find out how to start a fundraiser for America's ToothFairy. Raise anywhere from $500 to $5,000 to help kids get the care they need. You will be helping hundreds of children protect their teeth. Fundraisers are perfect for schools, businesses, and other types of organizations.
A community can get involved by raising oral health awareness. The biggest public health enemy is childhood tooth decay. The major three barriers that must be breached are behaviors, beliefs, and environmental influences. Your community can help by completing oral health projects and inviting families to join America's ToothFairy's HERO Program.
Become a tooth fairy for a child. You can ensure children get preventative dental treatments by pledging anywhere from $10 to $50 a month. Thanks to your pledges, kids that need care will get two dental visits along with a fluoride application so their teeth stay strong all year.
Dentists, Dental Businesses and Clinics Are Encouraged to Help Too
Become an official Smile Guardian for vulnerable children. The focus is on prevention with the initiative of distributing Protect Your Smile Resource Kits. Those kits go to nonprofit dental clinics, schools, and community organizations that serve the needs of kids.
Take part in a Bid for Smiles, an online auction hosted by America's ToothFairy, which saves children's smiles while you save up to 50% on supplies and dental equipment. Visit their website to register and give kids a great reason to smile.
Launch a fundraiser, hold a Smile Drive, become an honorary tooth fairy for children, or volunteer at any of their member clinics. No matter what you choose to do, you will be making sure deserving children get the dental care they necessitate. Health and dental care for kids can include a wide range of treatments including nonsurgical cosmetic treatment, teeth cleaning, and even dental repair after a bicycle accident.
Every Child Deserves a Healthy Smile
You can change the fact that many kids are unable to get the dental care they require. Work with America's ToothFairy to educate your community, work within their HERO program, and donate in any manner you can. Together, the challenges that keep underserved children from getting the dental care they need can be met.