What Should You Look For When Seeking an Ideal Dentist?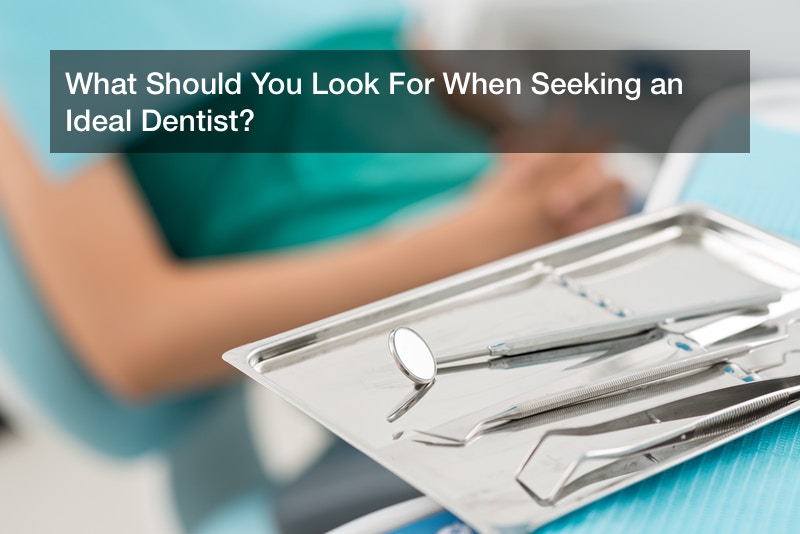 Have you switched health insurance providers in the recent past? If so, you may need to make some effort to find an ideal dentist for your family or some emergency dentist services. There are many dentists in most towns, but it's not all about quantity. You'll need to find a perfect dentist that suits your needs.
This post presents some of the critical considerations that you need to make to get an ideal dentist.
Certification and Credentials
Your looks are precious, and you wouldn't like to get your smile damaged by a wrong dental procedure. As such, you should always check your prospective dentists' qualifications and certifications when not seeking emergency dentist services. You can find out about your prospective dentist's skills and accreditations by conducting an online search or through your insurance provider.
Condition and Specialty Considerations
If you have gum and mouth cavity tissue problems, then you should look for a periodontist because this is a problem that relates to their area of specialty. But if you're looking for a dentist to extract a tooth from your six-year-old, then you'll need to look for a pediatric dentist. Dentists can operate in various capacities, and when they get specialized training beyond common dental school, they can become skilled in handling specific dental problems.
Location and accessibility
If you're a busy person, then you wouldn't like to get held up at a dentist's waiting room all day. Also, you wouldn't want to arrive late at your appointments with your dentist. You should thus choose a dentist that is closest to your home or workplace to avoid lots of commuting when you want to visit your dentist. Selecting a dentist located close to you and one whose working hours work for you will make sure that you don't get late on your appointments.
You'll also be able to get fast emergency dentist services when you have a dental problem that needs quick attention. If you get your services from the Aegis Dental Group, then you should at least be close to their locations at 3560 Elkhart Rd. Goshen, Indiana 46526 or Anchorage Rd. Warsaw, Indiana 46580. But if you're getting your dental services from the Angola Dental Center, then you should at least be close to their center at 205 East Harcourt Rd. Angola, Indiana 46703.
Insurance and Cost
If you have some health insurance coverage that can cater to your dental problems, then you should find out whether your prospective dentist accepts your kind of insurance cover. You should also choose dentists that accept different types of payment options, such as checks and credit cards. It's prudent to always ask for estimates on costs when you have specific conditions that need some known procedures.
Availability of Emergency Dentist Services
You should find out whether the dentist you're about to choose is always available for emergencies. The best dentists shouldn't refer you to hospital emergency rooms. Instead, they should be available on most emergency calls to offer vital emergency dentist services.
Ideal dentists should dedicate their services to patient care and support. As such, you should ensure that you get a dentist that you're comfortable with to ask questions and explain all your dental symptoms, problems, and needs.
Dental Health and Hygiene Education
Your dentist should not only diagnose and treat you, but she or he should also educate you about oral health and hygiene. You deserve to know more about your teeth and oral health to avoid possible future dental problems.
Approximately 74% of U.S. citizens have some periodontal condition that needs dental care. But choosing a dentist is not an easy task. There are many dentists available, and it's challenging to know which one is best for you. But with the cited considerations, you can get the best shot when looking for an ideal dentist. Apart from making these considerations, you should also ask for suggestions from family and friends, or your current health insurance provider.