Paying for Dental Care: Options for Those With and Without Insurance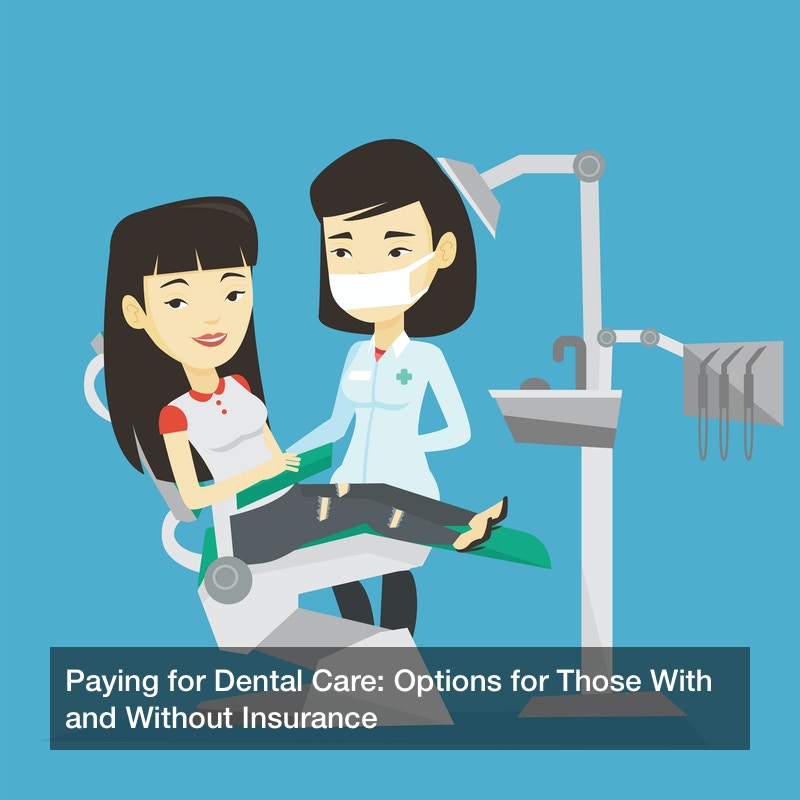 Do you have a dental problem that needs attention, but you aren't sure what your options are when it comes to  paying for dental care? If so, you've come to the right place. The good news is, paying for dental care doesn't have to put you in a financially strained position.
In this article, we'll tell you what your options are when you need to pay for dental treatment. Here you'll find some basic budgeting advice to try leading up to your appointment. We'll share what you can do if you don't have dental insurance. And we'll briefly go over different kinds of dental financing, including savings plans, insurance, and even dental credit cards.
To learn everything you need to know about paying for dental care, keep reading.
Paying for Dental Care: Where to Begin
Generally speaking, if you need health care services and simply aren't sure how you can afford them, a good place to start is your dentist or doctor's office. In the case of getting financial options for dental care, you should speak to someone at your local dental clinic. Dental clinics usually have considerable experience with making important treatments accessible to people on a tight budget.
If you have insurance, your dental clinic's staff can give you an idea of how much you'll have to pay out of pocket. If you don't currently have insurance, they can let you know what deals or payment plans they offer. Paying for dental care doesn't have to be daunting — often simply talking to your dentist's secretary is all you need to get things figured out.
Dental Credit Cards and Financing
If you don't have insurance, talking to someone at your local clinic is a good first step. They'll be able to estimate the costs of treatment for you, as well as describe any financing options they offer. If you aren't able to pay for treatment out of pocket, the next things to consider might be a dental credit card or financing plan.
People are more likely to spend money on the things they need when they can spread payment across several months or years, and dentists know this. To capitalize on this, many dental clinics are partners with third-party creditors, who offer financing to patients on behalf of the dentists. Other clinics even provide financing in-house. In almost all cases, some amount of interest will have to be paid in addition to the flat treatment cost.
These financial arrangements are usually in the form of unsecured loans. Some dental clinics go a step beyond a simple loan, however: in addition to credit card processing, dental clinics may also offer credit card issuing, specifically to finance dental procedures.
You don't necessarily have to accept the options your own clinic gives you, however. Besides working with select financing partners that they recommend, some dentists will agree to work with another financing company that you've chosen for yourself. That being the case, you should make it a point to shop around and explore different financing plans before settling on one.
As convenient as dental financing and credit plans are, all systems come with drawbacks. In this case, there is often a high-interest rate, especially on debt that isn't paid off quickly. Many payment plans incorporate an interest-free period into them, which means you may pay no interest at all if you pay off your entire debt within a given window of time. But once that period is over, you can be hit with back-interest with rates as high as 27%.
Getting financing of any kind is a risky move, especially if you're less than financially stable. Before selecting a plan, make certain you can easily make the payments every month, and find out exactly what the interest rate is and when it will apply. If you're at your dental clinic while you're presented with your payment options, don't feel rushed to make a decision. The staff should give you plenty of time.
Getting Your FSA or HSA to Pay for Dental Care
You may not have dental insurance, but do you have a health insurance plan through your work? If so, an FSA (flexible spending account) might help you pay for dentistry services. When you have an FSA, you use your contributions to the account to pay for medical care with tax advantages, reducing your taxable income while allowing you to afford the care you need. Just keep in mind that unused FSA contributions don't roll over to the next year, so you may not want to put off getting treatment. It's also important to note that desired treatments must meet certain criteria to be valid, so you may be limited on what kinds of dental treatments you can get.
Similar to an FSA, and HSA (health savings account) also lets you pay for healthcare services with tax-advantaged income. And unlike FSA contributions, money you put into your HSA does roll over into the next year, meaning you have more time to find the right dentist and treatment options for you.
If you aren't sure whether your employer offers HSAs or FSAs or not, it's something you should look into. If you can set one up now, you can start saving money for upcoming dental care, all while saving on taxes.
Getting a Dental Savings Plan
Contrary to what its name implies, a dental savings plan is not a savings account like an HSA. It's also not an insurance plan. Instead, it's essentially a network you can join that gives you access to dental care at a reduced rate with participating dentists. Dental clinics team up to support such networks because it helps them secure more patients, even though they lose out on profit margin in the short term. You still have to pay for care out of pocket, and it does come with a membership fee, but it can be worth it if you just need a little help paying for routine care every year.
Probably the most exciting benefit of dental savings plans is that, unlike individual insurance, you're allowed to take advantage of discounts immediately. Sometimes these plans also cover cosmetic dental procedures, which aren't usually considered eligible by health insurance companies.
Before joining a dental savings plan, make sure your preferred dentist is a participating member. You should also make sure you understand exactly what you're agreeing to, as many plans involve strict schedules for treatments offered at the discounted rates.
Understanding Dental Insurance
If you've had any experience comparing insurance plans at all, you may feel like you need the help of an insurance lawyer just to make sense of everything. And while that's not a bad idea, we'll attempt to get you started on what paying for dental care with insurance entails.
First of all, you might be surprised to learn that dental insurance isn't quite like other kinds of insurance. It very rarely covers 100% of major dental treatments. Not only that, but the majority of dental plans offer relatively little annual benefit. Depending on the details of your plan, your coverage could actually max out after paying for dental care of about $1,000 to $1,500 in the same year. You'll also probably have to meet a minimum deductible before the coverage applies, as with other forms of insurance. Depending on your plan, that might be as low as $50 or as high as $300.
While these drawbacks may seem glaring, the good news is that dental insurance is often inexpensive. Many perfectly decent plans cost no more than $20 per month. If you have dental insurance, you can further help save money by using other methods described in this article, such as participating in a local dental savings plan.
Individual Coverage or Employer-Provided Coverage?
To understand the ins and outs of dental insurance, it's important to compare the different types of insurance available. The most obvious classification for insurance plans is whether your insurance was purchased independently or provided through your job. The majority of people with dental insurance have it because of their employer, which is known as a group policy. They get this coverage either by default or by opting into it.
If you have a sudden serious dental problem and need to see an emergency dentist, signing up for an individual policy might not help you much. Most insurance policies for individuals involve mandatory waiting periods for various procedures. Even a routine cleaning might not be covered until six months after you sign up. Major procedures, such as root canals, could involve waiting periods of up to two years.
The great thing about group policies is that coverage is often available for dental work without the waiting period imposed by individual policies. However, if you just started your job, you may be required to wait for your probationary period to end. If you don't currently have dental insurance through your work but you think it might be available, talk to your human resources manager to see about signing up.
Closed or Open Network?
After determining whether to enroll in an individual insurance plan or seek a group policy, the next relevant classification is whether your insurance company pays benefits to all dentists or only those within its network. Most insurance plans use a model called PPO, or preferred provider organization, which means they only cover treatments at certain participating dental clinics.
PPO insurance plans use closed networks of dental clinics. These plans are also referred to as managed care insurance. Even though you're limited to seeing certain dentists for your dental care, the upside is that you typically have lower out of pocket costs when you stay within your provider's network. This means you save money on dental care, even though you might not get your first pick of dentists. However, most PPOs will cover out-of-network providers, but this will come with higher out of pocket rates. The exception to this rule is HMOs and EPOs, which do not cover treatments by providers outside their networks.
PPO insurance plans usually have three separate tiers dividing their coverage rates. The top tier of coverage is for routine treatments like teeth cleaning. Procedures that make up the top tier are usually 100% covered by your insurance. The next tier may include more advanced treatments like fillings, and may only cover 80% of the total cost. Finally, the bottom tier is for major restorative procedures, like root canals and dental implants, and they're usually only about 50% covered, even though they're the most expensive. While this system may seem like it's rigged against you, it's actually quite convenient for routine dental care.
Insurance policies that have open networks are called indemnity plans. Indemnity plans are the oldest style of dental insurance, and instead of providing coverage at select clinics only, coverage is available to patients of any dentist. This means you get to choose the dental care provider you like best, without worrying about higher, out-of-network fees.
Like PPOs, Indemnity plans typically have a tiered schedule of available benefits, which provides coverage at more favorable rates for less costly procedures. Rates vary based on the plan and provider, however, so look up the details for your specific plan (or the plan you're considering) to find out for sure.
Getting Pre-Authorized
When you're paying for dental care with your insurance policy, don't simply assume you'll be covered and walk into your favorite in-network clinic. Always talk with both your dental clinic and your insurance company first, and get pre-authorized for your dental procedure. Unfortunately, the pre-authorization process can take as long as a few weeks, but it ensures that you'll know beforehand what your financial responsibility is going to be. Pre-authorization services are routine business for dental clinics, and mandatory for insurance companies. Besides helping you prepare your budget before paying for dental care, the process prevents you from experiencing any unpleasant surprises down the road when you learn your coverage isn't quite as good as you were hoping.
Seeking Cosmetic Dental Treatments
Paying for dental care isn't always about teeth cleanings and gum disease treatment. 97% of Americans believe that a beautiful smile is an important asset socially, and cosmetic dental care reflects that belief.
Examples of cosmetic dentistry include teeth whitening, dental reshaping and contouring, veneers, bonding, porcelain crowns, and certain types of braces and teeth straighteners. These procedures are almost never medically necessary, but they make you feel better about your teeth and appearance.
The bad news here is that dental insurance won't usually cover cosmetic treatments. However, you can still save money through a dental savings plan, and you may be able to lighten the monetary load by distributing payments with a payment plan. Or — the best idea of all — start a personal savings account to set back money for improving your smile.
Preparing for Emergencies
Even when you have the insurance coverage and discounts you need, navigating financial matters can be complicating and stressful. As a general rule of thumb, you should be setting money back in a savings account to prepare for emergencies of all kinds. Whether you need emergency dental care or the car breaks down, you never know when you'll need the extra cash.
With that, you now know everything you need about your options when paying for dental care.